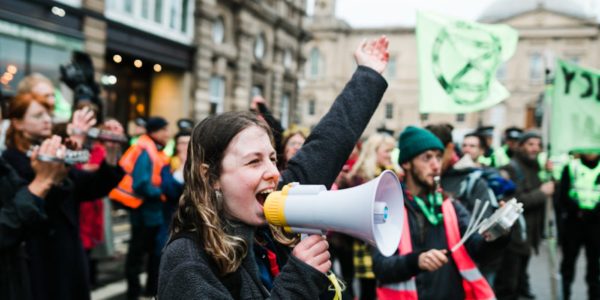 News
A green washing machine is part of a creative blockade of Peterhead power station this morning with four rebels locked-on.

Join Extinction Rebellion Glasgow every Saturday at 3pm at the Clydeside Ampitheatre as we head out to take action for change.

Yesterday at 11am, 5th May, Extinction Rebellion Glasgow activists protested outside Barclays branches on Argyle Street and Kilmarnock Road in Glasgow and delivered a letter to the manager of each branch highlighting the banks' failure to address the Climate and Ecological Emergency.

An all female group of XR Scotland rebels have blocked Faslane's North Gate to demand a 'Safe, Green Future', as part of the International Peace Lotus Campaign.

Extinction Rebellion Forres (XR Forres) and concerned citizens  took a socially distanced wild swim, carrying placards bearing the messages 'Act Now or Swim Later' and 'Love Earth – Fight for 1.5°C to celebrate Earth Day.

Two activists doused themselves and a model Earth in fake oil, to represent the damage that Barclays' investments are having on the planet. This took place at 12.50pm outside Barclays' Bothwell Street branch, in Glasgow on 22 April 2021.

Do you live in Central Belt Scotland? The COP26 Coalition need as many of you as possible to sign up to their shiny, new online homesharing accommodation platform: climate.humanhotel.org

Creative performances took place in Glasgow and Edinburgh on Thursday 1 April 2021 involving activists playing dead bodies covered in oil and greedy Barclays bankers. These actions are part of a coordinated campaign of actions around the world organised by Extinction Rebellion.

We believe in the potential power of deliberative democracy; to bypass the party political impasse and make way for the real change we so desperately need. This is why we pushed for a Citizens Assembly on climate change to happen and then worked as part of the Stewarding ...

As Scotland's Climate Citizens Assembly reaches crunch time and starts voting on recommendations, Extinction Rebellion Scotland asks Assembly members to be bold.