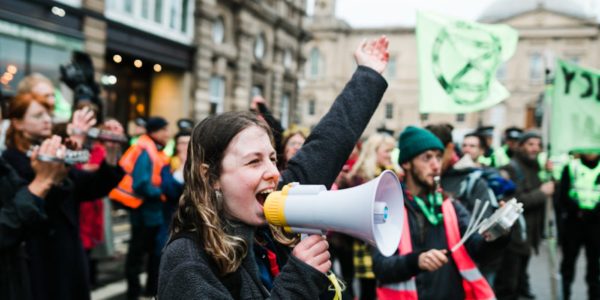 News
Songs, samba and solidarity as XR Scotland rebels block a road to prevent delegates leaving the G7 conference.

Day 2 where our XR Scotland rebels clean-up a Barclays bank and take part in the G is for Greenwashing activities.

Day 2 where our XR scotland rebels help Sound the Alarm for climate justice and highlighting the disastrous consequences of the G7's broken promises for people.

The first in a series of daily reports from an XR Scotland rebel taking part in Extinction Rebellion's protests at the G7 in Cornwall.

Extinction Rebels from across Scotland are travelling to Cornwall to take part in the protests at the G7 Summit this weekend.

After decades of insufficient action on climate change, there has recently been a number of important advances in international climate politics. Just this week, the leaders of the richest industrialised nations have agreed to end the financing of coal extraction abroad. Also, a Dutch court has ruled that Shell must ...

Creative performances related to rising sea levels are taking place in Forres, Invergordon, Glasgow, Dundee, Gairloch, and Edinburgh on Monday ahead of the G7 Summit in Cornwall next week. Beginning Monday 7th June, activists from Extinction Rebellion and other groups across the UK will be participating in a three-day campaign ...

A green washing machine is part of a creative blockade of Peterhead power station this morning with four rebels locked-on.

Join Extinction Rebellion Glasgow every Saturday at 3pm at the Clydeside Ampitheatre as we head out to take action for change.

Yesterday at 11am, 5th May, Extinction Rebellion Glasgow activists protested outside Barclays branches on Argyle Street and Kilmarnock Road in Glasgow and delivered a letter to the manager of each branch highlighting the banks' failure to address the Climate and Ecological Emergency.