Extinction Rebellion protest in Glasgow as Barclays vote against climate resolution
May 06, 2021
Yesterday at 11am, 5th May, Extinction Rebellion Glasgow activists protested outside Barclays branches on Argyle Street and Kilmarnock Road in Glasgow and delivered a letter to the manager of each branch highlighting the banks' failure to address the Climate and Ecological Emergency.
Extinction Rebellion Glasgow activists deliver a letter to the manager of a Barclays branch – 5 May 2021
In spite of the protest, 86% of Barclays shareholders voted to reject a resolution to set, disclose and implement a strategy to achieve Barclay's climate ambitions and report on progress at their Annual General Meeting. [1]
Myke Hall, 34, writer and XR Scotland activist, said: "The level of hypocrisy is unbelievable. Barclays claim to be helping the transition, but they know they are the dirtiest bank in Europe. They are deceiving their customers, and fueling the destruction of the enviroment and the extinction of species."
In March 2020, Barclays announcing its ambition to become a Net Zero Emission bank by 2050 and making a firm commitment to align its entire financing portfolio to the goals of the Paris Climate Agreement. [2]
Barclays invests more in fossil fuels than any other European Bank and also invests three times more in fossil fuels than the sum of all other investments it labels as 'green'. [3] [4]
In 2020, during a global pandemic, Barclays increased its investments in tar sands, coal mining and coal power, Arctic oil and gas, and fracking; compared to 2016, the year after the Paris Climate Agreement. [4]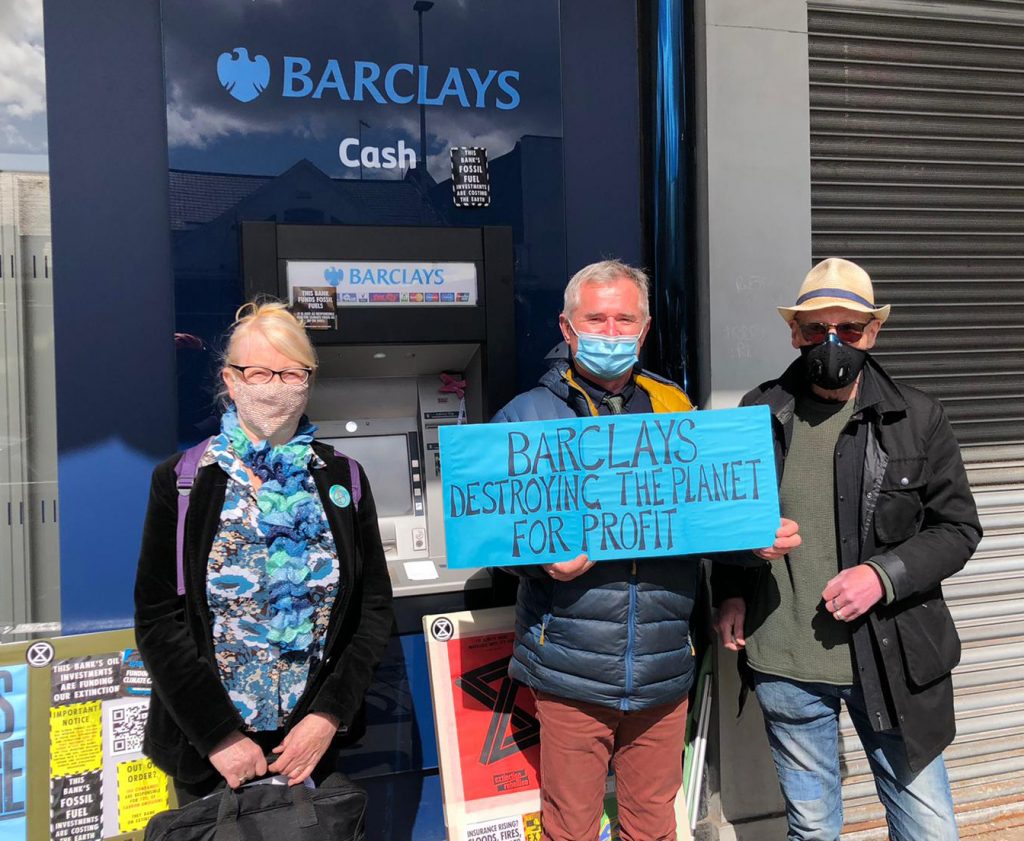 Michael, a 59 year old Management Consultant and activist said: "The vast majority of Barclays' shareholders should be ashamed that they have voted against producing a plan to meet their own Climate Change commitments."
Citations
[1] Barclays offers vote on climate progress as activist heat rises
[2] Our ambition to be a net zero bank by 2050
[3] Accelerating the transition
[4] Fossil Fuel Finance Report 2021
Related press releases
1 May 2021 Extinction Rebellion pour oil over "dead bodies" outside Barclays
22 May 2021 Extinction Rebellion Glasgow pour oil on themselves outside Barclays
What is Resolution 29?
From Barclays AGM 5 th May 2021 – Notice of meeting papers Market Forces requisitioned resolution on climate change (2)
Not supported by your Board

Resolution 29. To promote the long-term success of the company, given the risks and opportunities associated with climate change, the company and the Directors be authorised and directed by the shareholders to:
1. Set, disclose and implement a strategy, with further and improved short-, medium-, and long-term targets, to phase out its provision of financial services to fossil fuel (coal, oil and gas) projects and companies in timeframes consistent with Articles 2.1(a) and 4.1 of the Paris Agreement.
2. Report annually on progress under that strategy, starting from 2022, including a summary of the framework, methodology timescales and core assumptions used, omitting commercially confidential or competitively sensitive information, and at reasonable cost.
Resolution 29 has been requisitioned by a group of shareholders co-ordinated by Market Forces. The Board does not consider resolution 29 to be in the best interests of the Company and its shareholders as a whole and RECOMMENDS THAT YOU VOTE AGAINST RESOLUTION 29 as the Directors intend to do in respect of their own beneficial holdings.
By order of the Board
Stephen Shapiro Group General Counsel and Group Company Secretary
Barclays PLC 30 March 2021