Extinction Rebellion Glasgow pour oil on themselves outside Barclays
April 24, 2021
Two activists doused themselves and a model Earth in fake oil, to represent the damage that Barclays' investments are having on the planet. This took place at 12.50pm outside Barclays' Bothwell Street branch, in Glasgow on 22 April 2021.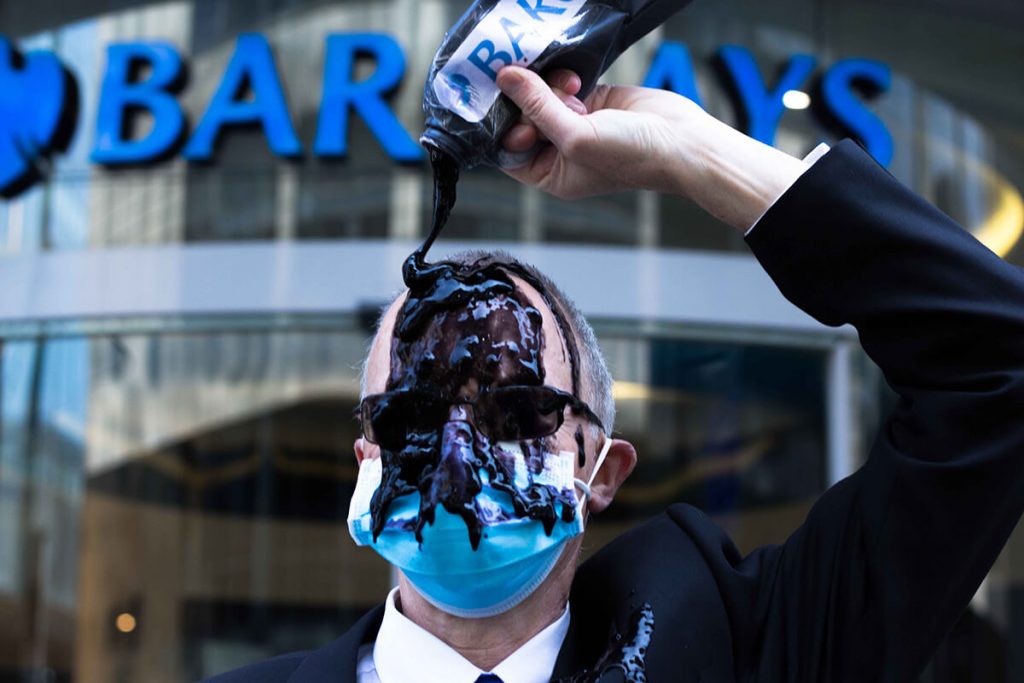 This follows the 'Climate Crime Scene' the same group performed at the Argyle Street branch of Barclays on 1 April [1] and celebrates Earth Day 2021. [2]
In March 2020, Barclays announced its ambition to become a net zero bank by 2050 and made a firm commitment to align its entire financing portfolio to the goals of the Paris Climate Agreement. [3]
However, at its Annual General Meeting on 5th May 2021, the Board of Barclays will recommend that its shareholders vote against Resolution 29, which requires the setting, disclosing and implementing of a strategy to achieve the bank's climate ambitions and reporting on progress. [4]
Barclays invests more in fossil fuels than any other European Bank and also invests three times more in fossil fuels than the sum of all other investments it labels as 'green'. [5] [6]
Stella, a 29 year old Physiotherapist and XR Glasgow activist said "Barclays is sentencing us to a dangerous future by refusing to stop investing in fossil fuels. We must hold the bank accountable. The cost of inaction is enormous."
Michael, a 59 year old Management Consultant and XR Glasgow activist said,  "Barclays' actions speak louder than its greenwashing words. I'm not a financial advisor and the value of investments can go down as well as up, but anyone with a conscience and shares in Barclays should seriously consider voting in favour of Resolution 29."
Related Press Releases
22 April 2021: 'This is an act of care' – Extinction Rebellion women break windows at HSBC Canary Wharf HQ in latest action to highlight the financing of climate breakdown
1 April 2021: Extinction Rebellion pour oil over "dead bodies" outside Barclays
Citations
[1] Extinction Rebellion protest: Activists pose as dead bodies outside Barclays bank in Scotland
[2] Earth Day 2021
[3] Our ambition to be a net zero bank by 2050
[4] Barclays PLC Notice of Annual General Meeting 2021
[5] Accelerating the transition
[6] Fossil Fuel Finance Report 2021