Extinction Rebellion pour oil over "dead bodies" outside Barclays
April 03, 2021
Creative performances took place in Glasgow and Edinburgh on Thursday 1 April 2021 involving activists playing dead bodies covered in oil and greedy Barclays bankers. These actions are part of a coordinated campaign of actions around the world organised by Extinction Rebellion.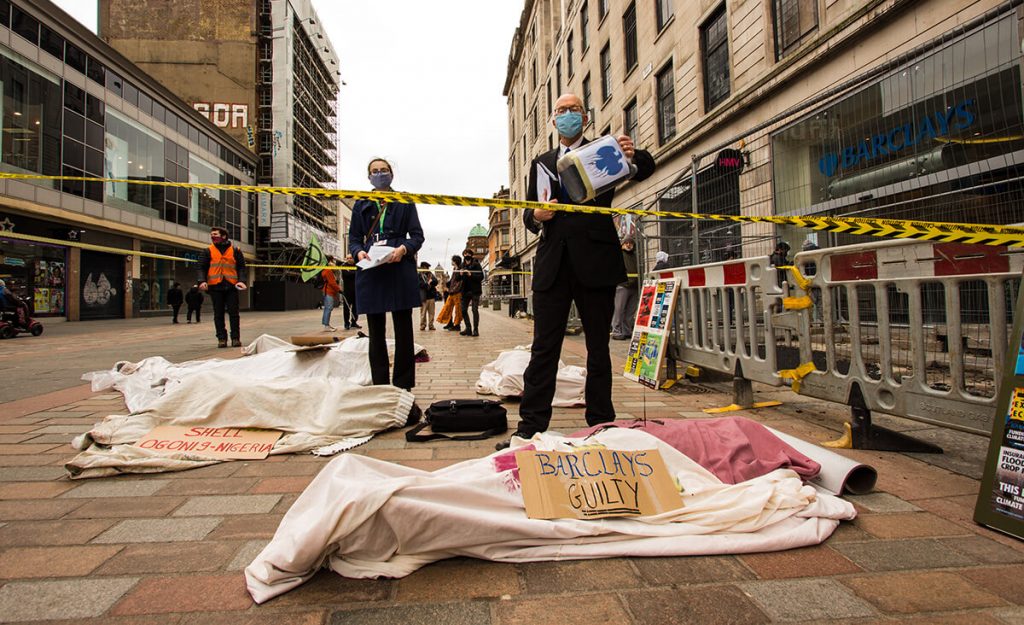 Copyright: Susanna Hotham
As part of the Global Money Rebellion Wave [1], these actions aim to draw attention to the deaths that have been caused by Barclays unethical investments in fossil fuels, and that we need an economic system that prioritises human welfare and flourishing, not infinite growth on a finite planet.
Glasgow, Scotland
Barclays, Argyle St 11.20am
Extinction rebels will perform a 'Climate Crime Scene'. Five activists will lie on the ground as dead bodies, representing those killed due to unethical investments Barclays has been involved in. One performer, dressed as a Barclays banker, will pour fake oil over five dead bodies, while another dressed as a detective will address the audience of pedestrians and bank customers. The five bodies represent:
A woman in Mossmoran, who died of air pollution from Shell and ExxonMobil Cowdenbeath petrochemical plants
One of the 'Ogoni Nine' activists, executed for peacefully protesting Shell's exploitation in Nigeria [3]
A women who died from contaminated water caused by Tar Sands oil production in North America
Someone who died due to the drought caused by Cerrejon Coal in La Guajira Province, Columbia [4]
A park ranger (and a gorilla) from the Virunga National Park in Congo, killed by the M23 militia funded by the SOCO energy company [5]
Sarah Krischer, 28, archaeologist and XR Glasgow activist said "Barclays funding of fossil fuel projects directly contributes to death and destruction throughout the world. For all the claims they are transitioning to a green future, words mean nothing if they continue to fund projects that have a devastating impact on human lives, communities and the natural world."
Michael, 59, management consultant and XR Glasgow activist said, "I'm here today because I need to be able to look my children in the eyes and say "I did what I could to raise awareness of Climate Change and hold those responsible, like Barclays, to account. We all need to speak up."
Edinburgh, Scotland
Barclays, Princes Street 12:00pm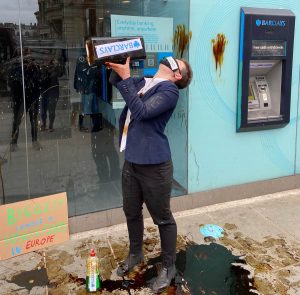 Performing to queueing bank customers and pedestrians, an activist dressed as a Barclays banker will pour "oil" and "greenwash" over another, holding a globe, representing Barclays part in causing the climate and ecological emergency, while claiming to be environmentally responsible. The activists may then leave oily handprints on the bank branch's glass walls.
Eleanor Harris, 23, XR Edinburgh activist said "We have been allowing corporations like Barclays to profit from the exploitation of the planet and its people for far too long. Every day we allow this to continue results in further death and displacement. Our protest today will not itself stop climate breakdown, but it may strengthen the idea that this level of corruption and destruction is not a part of human nature."
Both actions will follow strict social distancing protocols to ensure Covid-19 safety.
Barclays is the worst bank in Europe when it comes to investing in fossil fuels. [6] Barclays invested more into fossil fuels firms in 2020 than in 2019, despite pledging to be 'net zero' by 2050. [7]
To get involved with XR Scotland, visit: xrscotland.org
END
See also: London press release
Citations
Fake Crude Oil Recipe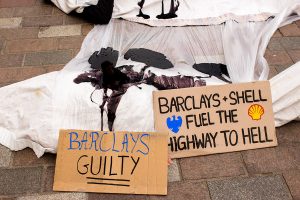 About Extinction Rebellion Scotland
Extinction Rebellion Scotland is a non-violent direct-action movement formed to take urgent action in the face of climate emergency and ecological catastrophe, as part of the global justice movement.
Our demands, issued as a Declaration of Rebellion to the Scottish Parliament and Scottish Government on 24th November 2018, are as follows;
That the Scottish Government tell the truth about the climate and wider ecological emergency, acknowledge and reverse any policies that help drive the climate crisis, and commit to enabling a rapid and just transition to a sustainable and fair society.
That the Scottish Government enact legally binding policy measures to reduce carbon emissions to net zero by 2025, including by replacing a system based on accelerating consumption with one based on ensuring the wellbeing of all.
The creation of a legally binding Scottish Climate Citizens' Assembly to oversee the changes, as part of creating a democracy fit for purpose and a society that cares for all.