Extinction Rebellion success in disrupting Vanguard greenwashing tour
June 16, 2022
You might have seen adverts for Vanguard, with smiling people giving a V-shaped "peace sign" with their fingers. What the ads don't tell you is that Vanguard is one of the world's biggest funders of climate destruction. Its investments fund climate misery across the globe, leading to crop failure, biodiversity loss, and an increased risk of war and death.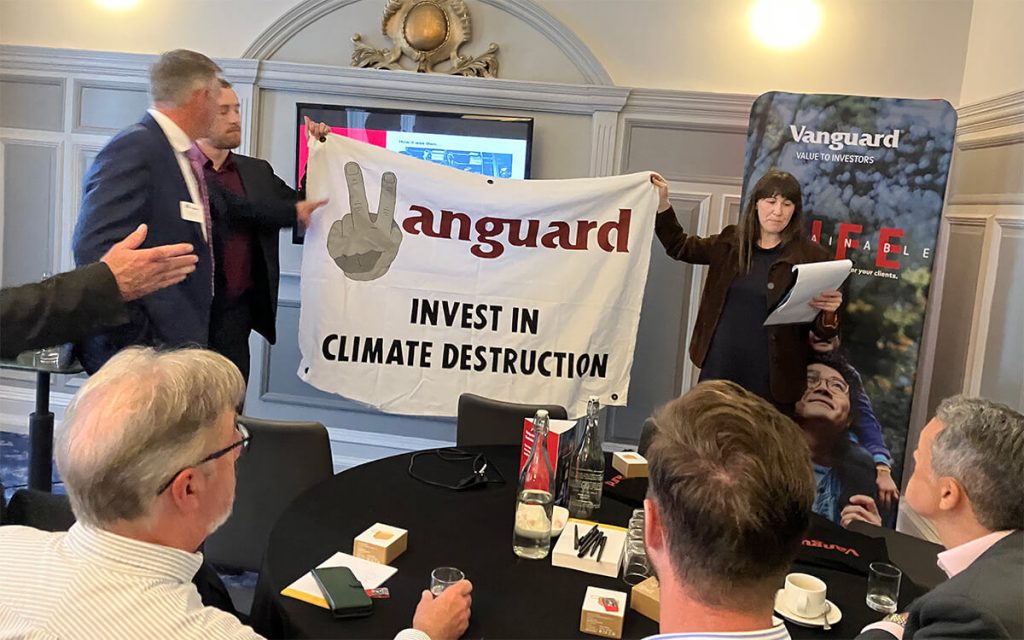 Extinction Rebellion are turning those V-shaped fingers around and telling Vanguard to get its money out of fossil fuels. In Glasgow on the first day of Vanguard's UK Sustainable Life roadshow questions were asked of them before being escorted out by the police.
The International Energy Agency, IPCC, the UN, Sir David King (former chief scientific advisor to the UK govt) are crystal clear that we must cease all new investment in the expansion of coal, oil and gas. If not, we are going to lose what we understand by our civilisation over the coming decades. And yet Vanguard, you do not exclude fossil fuel expansion in your Sustainable life portfolios. Please explain how this is not greenwashing lies?
Vanguard invest over £300billion in fossil fuels. How is this in line with sustainable life?
Vanguard invest over £100billion in coal, increasing coal investment last year and 23% of those investments are in coal expansion. How is this in line with sustainable life?Vanguard invest over £100billion in 12 of the world's most devastating new fossil fuel projects, including in North Sea Oil and Gas. These are Carbon Bombs! Finance is blowing our carbon budget and Vanguard is one of the biggest climate criminals.
Vanguard has the power to support the shift towards a cleaner, greener, safer future by ending its investments in fossil fuels. But it prefers to take dirty money, maximising its short term profits while contributing to the misery of those in the global south and future generations. We cannot stay silent while Vanguard wilfully causes death and suffering.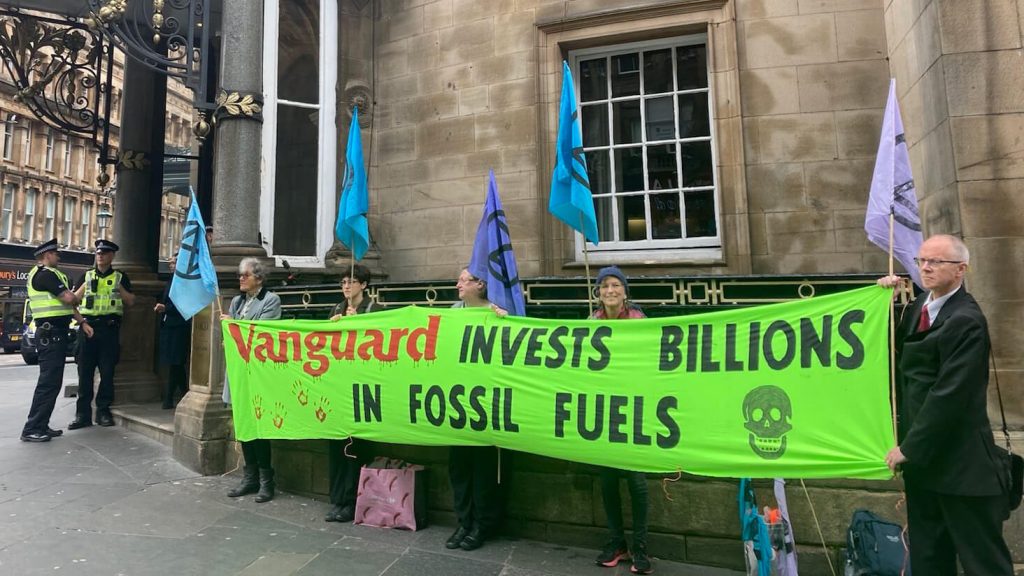 Last month Vanguard unveiled its new net zero climate commitment, revealing that less than 5% of its total assets are in line with net zero by 2050. It means Vanguard has the worst climate targets among major asset managers. Responding to criticism from campaigners, the company's CEO Mortimer Buckley stated that Vanguard is committed to maximising profits for its investors, rather than stopping investment in new oil, gas, and coal infrastructure.
After we disrupted the seminar and exposed their greenwash Vanguard have now cancelled the rest of the nine city "Sustainable Life" roadshow tour of the UK.