G7 Day 2: Greenwashing and scrubbing
June 16, 2021
Day 2 where our XR Scotland rebels clean-up a Barclays bank and take part in the G is for Greenwashing activities.
Extinction Rebellion members including protesters, wellbeing officers, first aiders, sound and tech engineers, and de-escalators, gathered at Falmouth's Kimberley Park to begin the second day of actions for the G7 summit (Sat 12 June).
Several activist groups were present in Falmouth including sister groups like HS2 Rebellion and Animal Rebellion.
A group protesting the conflict in Ethiopia carried signs reading "G7 act now", and the need for international interference, while another group protested human rights violations in Myanmar.
XR Scotland joined in with the Dirty Scrubbers, wearing aprons and scrubbing the exterior of Barclays, Natwest and HSBC in Falmouth town centre. The demonstration aimed to spread the message that UK banks are funding the climate crisis, with Barclays being Europe's biggest investors in the fossil fuel industry, and to urge citizens to move to green banks.
A procession of Red Rebels were also seen, as well as the Green Spirits, who paraded a model of Planet Earth through the town centre on a stretcher.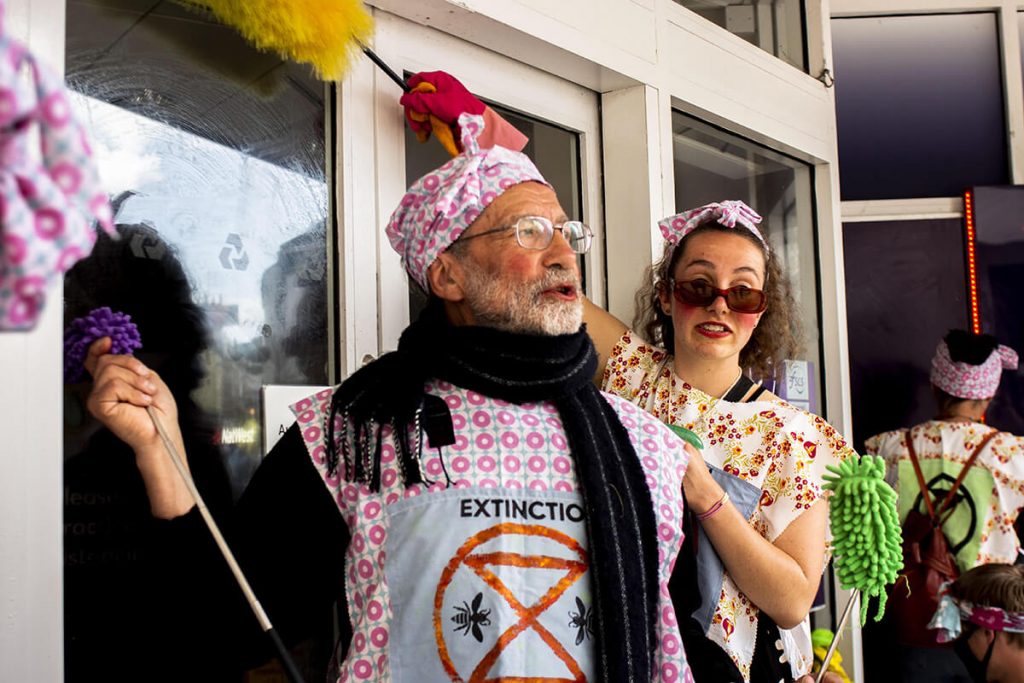 After a communal meal at Kimberley Park, rebels shuffled silently through the town to Gyllyngvase Beach as part of the Penitents Procession, organised by XR Penitents.
Support from Scotland
Anne, 61, retired midwife from Dundee, said: "I wish I could join those from XR Scotland who are making the journey to Cornwall to make sure ordinary people's voices are heard loud and clear. The G7 summit is so important.
"We are all focused on Cop26 but I wonder what the powerful and rich countries will plot behind their G7 closed doors in Cornwall. For us who are not in the room their decisions will be life changing. Let's hope they can at least reign Australia in. [Australian Prime Minister] Scott Morrison's recent statements are so depressing; it would seem he is happy to see the world burn."
More information on G is for Greenwashing
Donate to XR Scotland
We have spent money hiring minibuses, making banners and props, and Covid-19 protective equipment.
If you can afford to, please consider donating to help cover some of these costs.
Stay informed
Keep in touch with our latest news and events. You can tell us whether you want to volunteer but don't worry – you don't need to sign up to any role unless you want to. You can also unsubscribe at any time
Sign up for our newsletters and other information by email. If you put your local area in when you sign up, you will get local information.