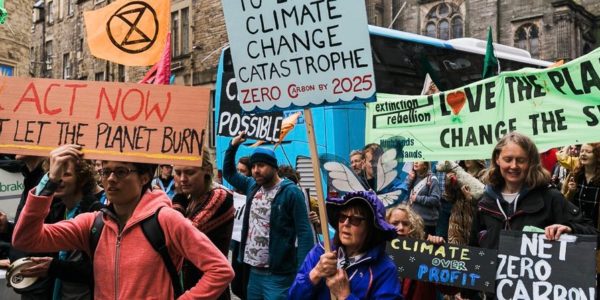 Test home page
Extinction Rebellion Scotland is part of an international movement that uses non-violent direct action (NVDA) to demand action on the global climate and ecological emergency.
OUR 3 DEMANDS
Issued by Extinction Rebellion Scotland as a Declaration of Rebellion to the Scottish Parliament and Scottish Government on 24th November 2018.
1. Tell the Truth
That the Scottish Government tell the truth about the climate and wider ecological emergency, acknowledge and reverse any policies that help drive the climate crisis, and commit to enabling a rapid and just transition to a sustainable and fair society.
2. Net Zero 2025
That the Scottish Government enact legally binding policy measures to reduce carbon emissions to net zero by 2025, including by replacing a system based on accelerating consumption with one based on ensuring the wellbeing of all.
3. Climate Citizens' Assembly
The creation of a Scottish Climate Citizens' Assembly to oversee the changes, as part of creating a democracy fit for purpose and a society that cares for all.
Join the rebellion
We need you to help build a powerful movement. For every rebel who is willing to carry out acts of civil disobedience, we need 50 others doing all sorts of creative and vital work. Act now.
Join your local XR group
Extinction Rebellion Scotland has groups holding meetings and activities across Scotland.
Find and join your local group.
Stay informed
Keep in touch with our latest news and events. You can tell us whether you want to volunteer but don't worry – you don't need to sign up to any role unless you want to. You can also unsubscribe at any time
Sign up for our newsletters and other information by email. If you put your local area in when you sign up, you will get local information.
Donate to XR Scotland
If you can't join an action, please donate to support the rebels, or if you want to help with court cases and fines, donate to our legal costs crowdfunder.
What's Extinction Rebellion Scotland about?
Watch "Heading for Extinction" to find out more about the climate crisis and what you can do about it: