Extinction Rebellion Scotland dress up and perform to highlight sea level rise
June 05, 2021
Creative performances related to rising sea levels are taking place in Forres, Invergordon, Glasgow, Dundee, Gairloch, and Edinburgh on Monday ahead of the G7 Summit in Cornwall next week.
Beginning Monday 7th June, activists from Extinction Rebellion and other groups across the UK will be participating in a three-day campaign called 'Make the Wave' [1]. The campaign aims to raise awareness of the increase in flooding we can expect across the country in the coming decades due to climate change and sea level rise, particularly in coastal regions. The action begins in Scotland, but will travel like a wave down the UK, to Cornwall where the 47th G7 Summit is taking place on 11-13 June. [2]
09:00 – Findhorn Beach, Forres
Edwardian Tea Party on the Beach
A group of rebels will be dressing up in hand-made Edwardian period costumes to have dinner and drinks at a table on the beach. As they dine, the group will be submerged by the rising tide, satirising the political class's inaction on climate change. The table cloth banner will read "Drowning in Promises".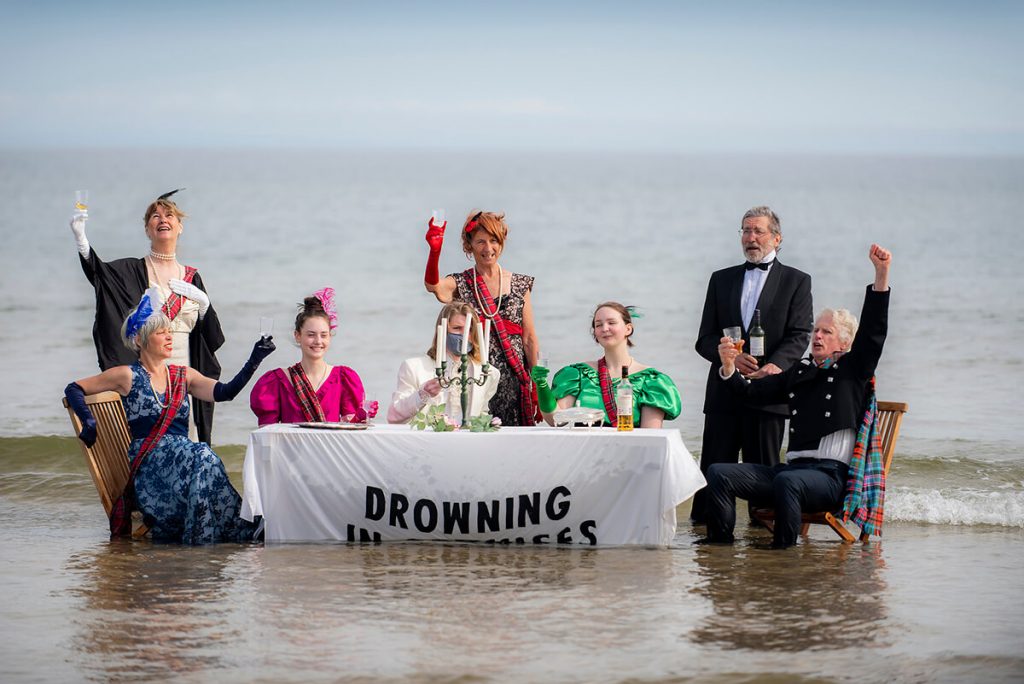 10:00 – Whitesands, Dumfries and Galloway
Boats not buses – exploring rising sea levels
XR Dumfries and Galloway will be showing what different predictions on sea-level rise in the coming decades – and continued political inaction – might mean for Dumfries town centre.
They will visit a home on the Whitesands, that was hit by flooding two years ago, to explore the impact a guaranteed 3-37cm sea level rise will have on existing flood defences. They will spend some time at the bus station, highlighting that "boats not buses" will be required to navigate the town centre if the rise hits 90cm! Finally, they will take their banner banner over the Devorgilla Bridge, roughly the height of a worst-case scenario sea level rise of 3+ metres, to illustrate the range of negative outcomes if politicians don't turn words into actions.
Photos from today's action and more information on XR Dumfries and Galloway's Facebook page
12:00 – Invergordon Boating Club, Invergordon
Banner drop with oil rigs
XR Inverness will be dropping a banner outside Invergordon Boating Club with North Sea oil rigs in the background. They will be drawing attention to the threat of sea level rise to Inverness and many communities around the Moray and Cromarty Firths which are at risk of flooding.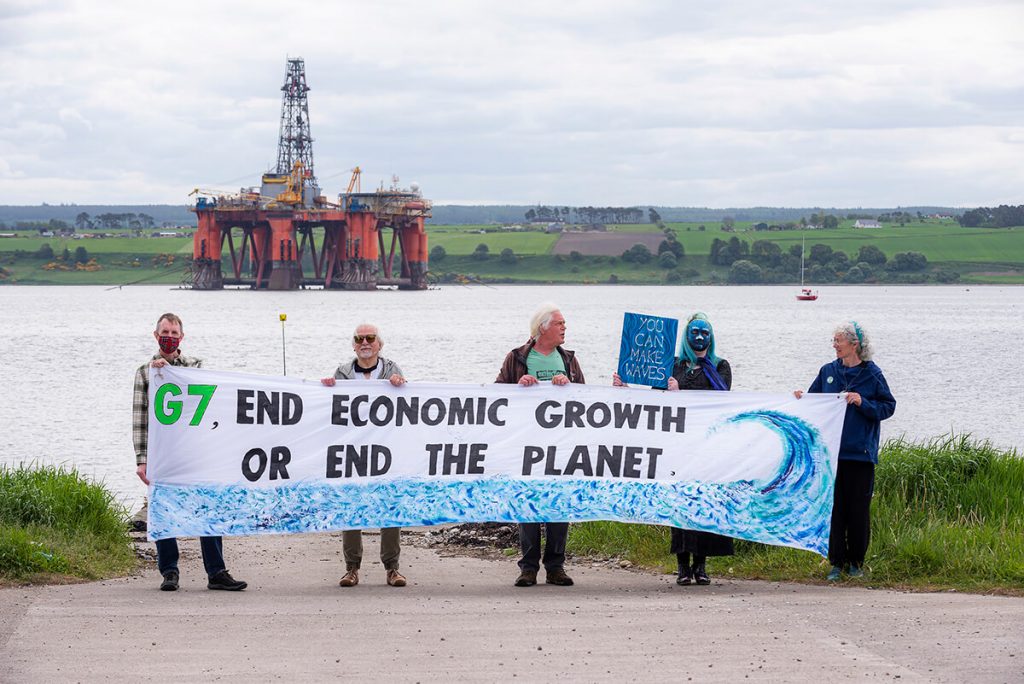 Elliot Blaauw, 68, a pensioner from Alness, said: "I'm doing this for my grandchildren. If we don't act now to stop global warming from pollution, we will all suffer. Young people should not have to pay for our mistakes".
Kate MacLachlan, a mental health officer from Drumnadrochit, said: "Boris Johnson recently committed to a 78% reduction in greenhouse gas emissions by 2035 compared to 1990 levels. G7 presents an opportunity to explain exactly how the UK will achieve that target, and to seek similar commitments from the leaders of the world's richest nations. Climate disasters, like Covid, respect no national boundaries, so support from the G7 to the Global South to reduce their emissions is also essential".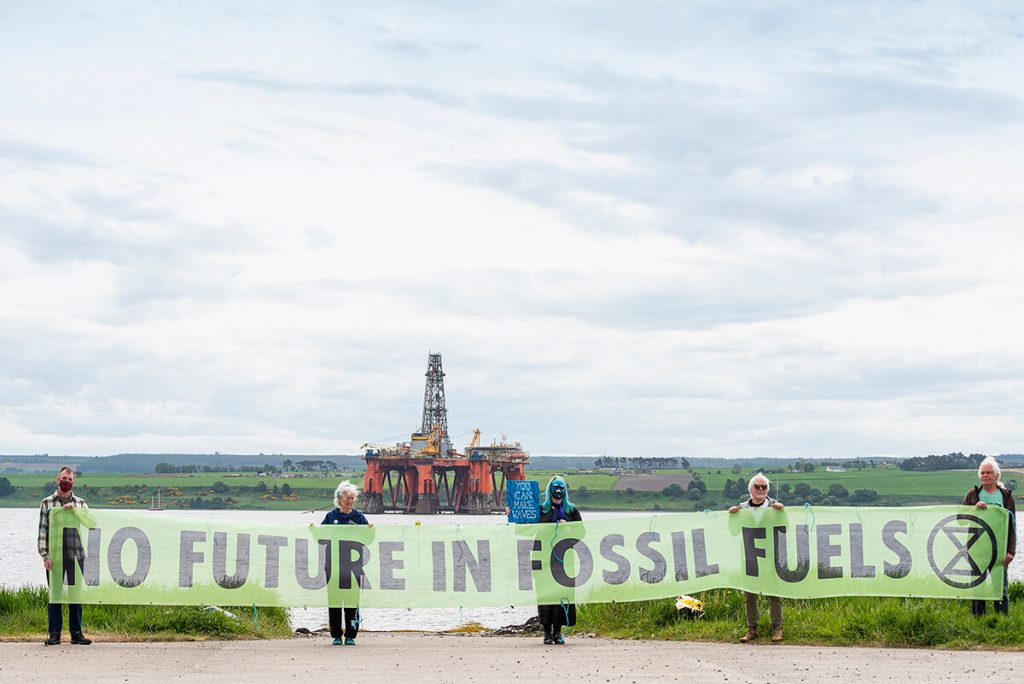 12:00 – SSE Hydro, Glasgow
Blue Rebel Performance
The Blue Rebels, Scotland's answer to the renowned "Red Rebels" from other Extinction Rebellion actions [3], will perform outside the SSE Hydro in Glasgow where the UN climate change conference COP 26 will take place in November [4]. SSE is a sponsor of COP 26 [5] and operates Peterhead power station, where another XR Scotland action took place this week [6].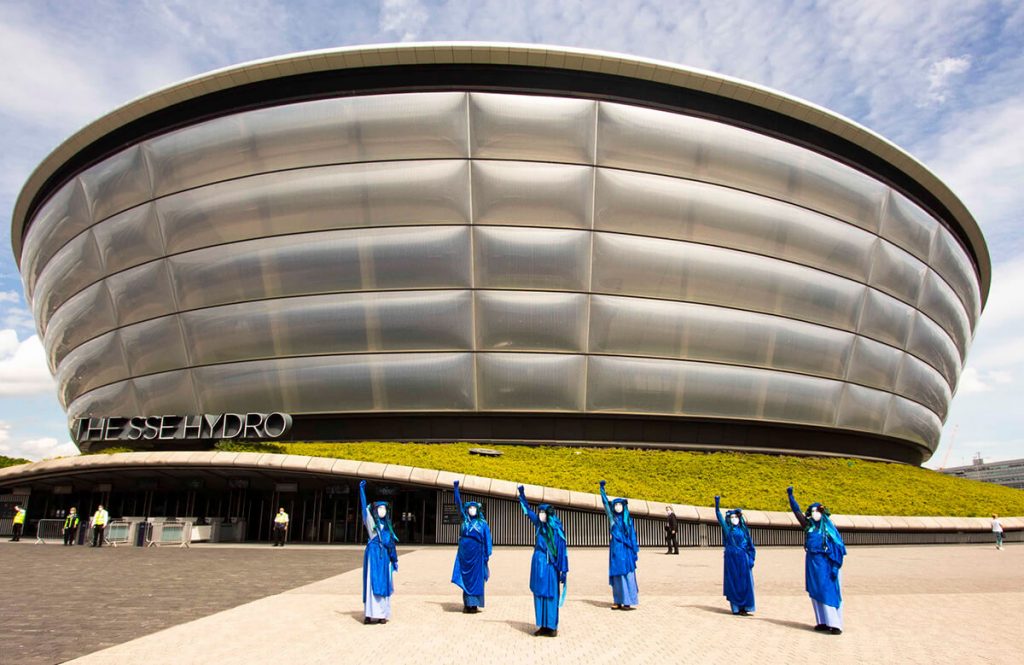 Blue Rebels symbolise rising water as a consequence of the climate crisis. Their silent presence embodies both the grief and sorrow we feel in this climate emergency, but also reminds us of the power that lies in all of us to face it together.
Michael Carr, 59, Management Consultant, said: "It's ironic that the venue for COP 26 will be flooded by 2050 as a result of rising sea levels and stronger storms. G7 leaders must take action to prevent this and the more serious impact on coastal communities around the world."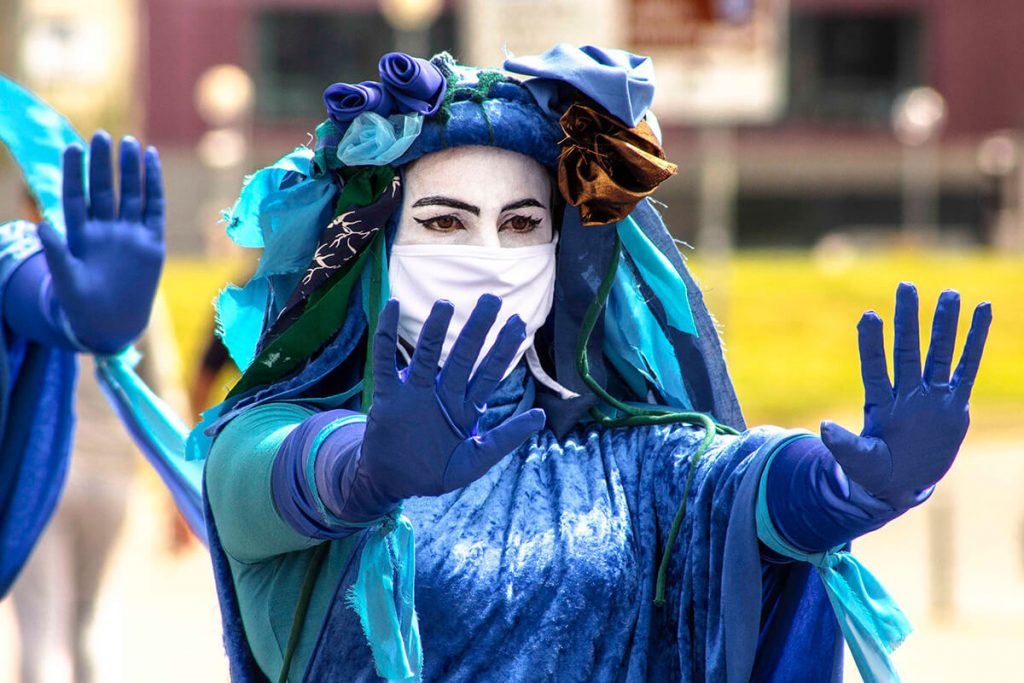 Live stream from XR Glasgow's Facebook's page
15:00 – V&A Dundee, Dundee
G7 Tea Party
A group of rebels will be having a tea party dressed in business attire. They will vote down climate policies and drink "oil" out of teacups and champagne flutes. This action will highlight the failures of G7 leaders to tackle the Climate and Ecological Crisis. They will have a banner reading "G7 Fossil Fuels = Sea Level Rise".
Watch the footage on XR Dundee's Facebook page plus the images from the action.
15:45 – Gairloch Beach, Gairloch
Sea Swim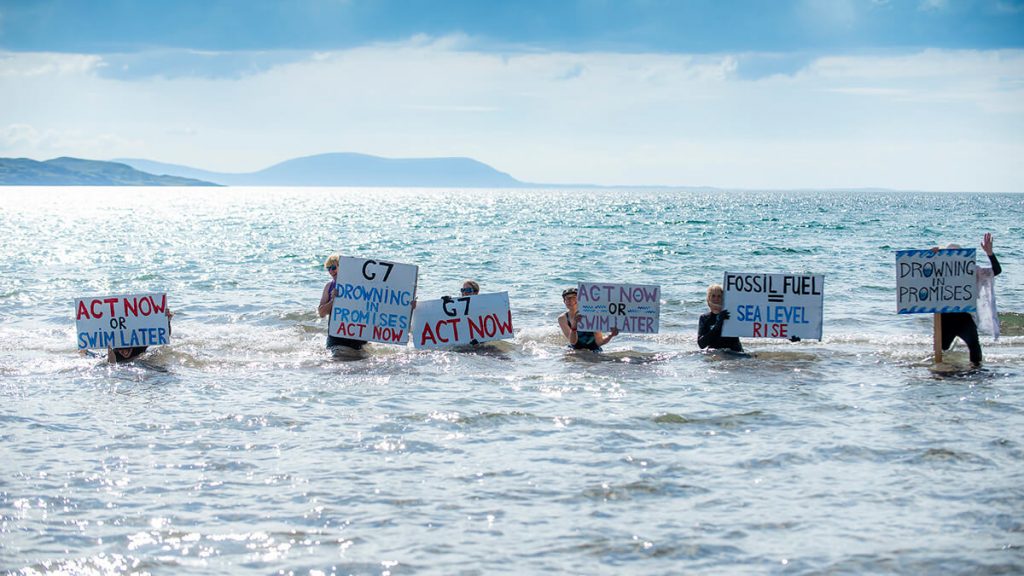 Activists in Gairloch will be swimming in the sea to highlight the risk of sea level rise related flooding with placards saying "Act Now Swim Later, Fossil Fuel = Sea Level Rise", "Drowning in Promises – Act Now", and banners saying "Fossil Fuel = Extinction", "Climate Emergency" and "G7 Act Now".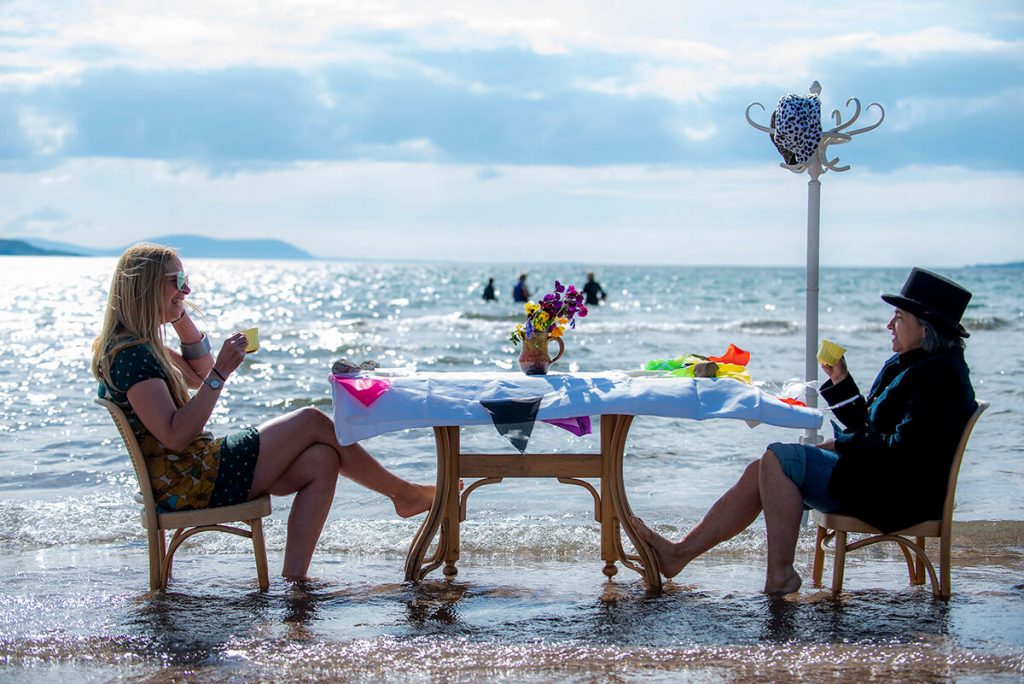 Gary Jack, 59, a chartered surveyor and crofter, said: "As climate change causes sea levels to rise, this will affect everyone and especially so in coastal communities such as ours. 'Make the Wave On Gairloch Beach' has been organised to join the nationwide event being held in the lead-up to the G7 conference, to inform delegates that people living in coastal communities demand more action to tackle the Climate and Ecological Emergency and sea level rise. It is critical that governments take action in line with what the scientists are telling us, and do it now."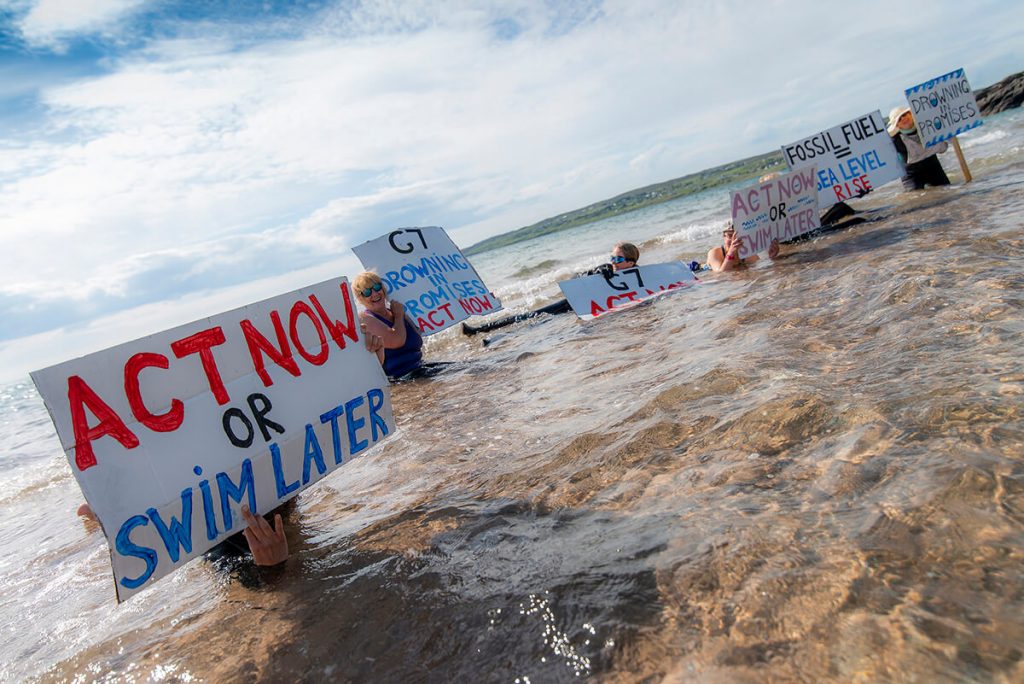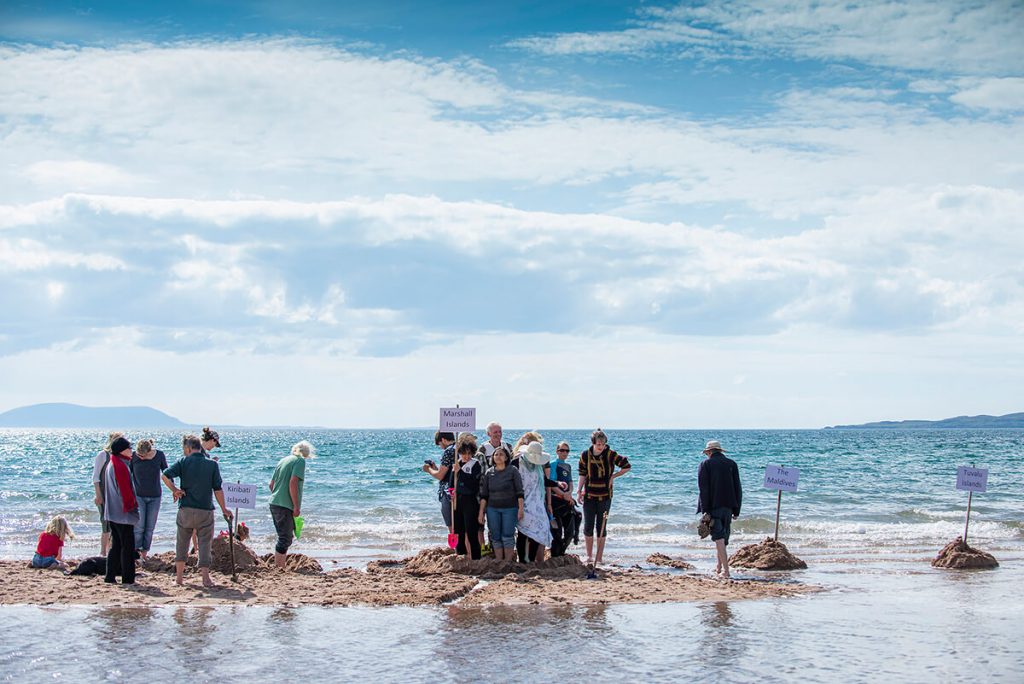 16:00 – Portobello Beach, Edinburgh
Wild Swimmers of the Forth
XR Edinburgh will be swimming in the Firth of Forth near Portobello Leisure Centre with placards and costumes highlighting the risk rising sea levels represents to the coastal suburb.
Citations
[1] Make the Wave
[4] UN Climate ChangeConference UK 2021
[5] Row over choice of SSE as major sponsor for the UN COP 26 climate talks in Glasgow
[6] SSE power station blocked by Extinction Rebellion climate protesters locked to washing machine
Related press releases
3 June 2021 Activists use Green Washing Machine to Block Power Station
1 June 2021 'We're drowning in promises!' Extinction Rebellion announces plan of action for Cornwall G7 Summit