G7: on the road to Cornwall
June 15, 2021
The first in a series of daily reports from an XR Scotland rebel taking part in Extinction Rebellion's protests at the G7 in Cornwall.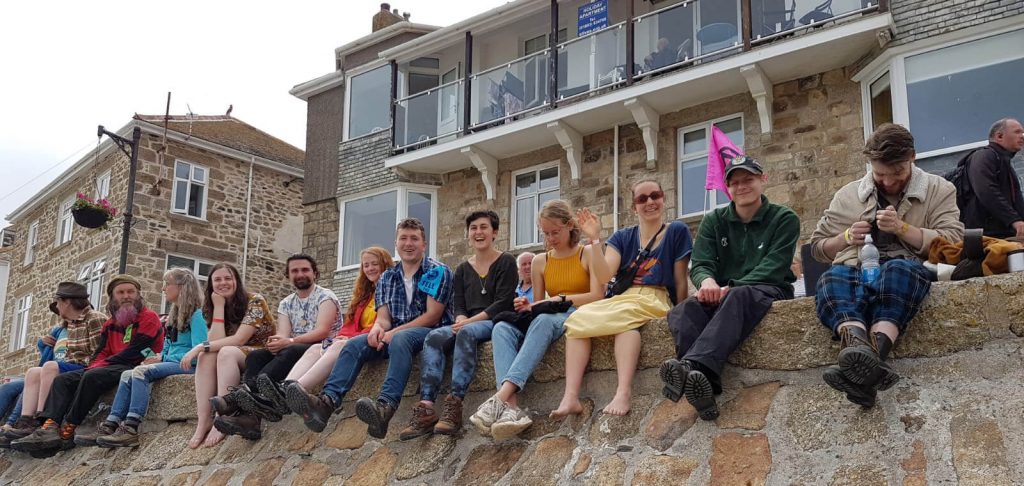 At 10:30 this morning, two minibuses carrying 20 members of Extinction Rebellion Scotland were among the first to arrive at Lower Penderleath Farm Camping Site.
The travelers gathered to discuss the formation of "affinity groups" – an important part of the Extinction Rebellion structure, where groups of around 4 to 8 "rebels" form a support network which also facilitates the planning of "actions", and the movement and wellbeing of the members.
Over the course of the day, Lower Penderleath Campsite was sprinkled with tents of all colors, shapes and sizes, as rebels continued to arrive from all over the UK. Many campers planted flags depicting the XR logo as well as various slogans referencing the 2021 G7 event, which takes place this weekend in Carbis Bay, 3km from the campsite.
A wide variety of mass participation actions are planned for this weekend and will include processions, banner drops, protest song, "discobedience", as well as "spicy" (AKA arrestable) actions, to be revealed to participants through secure channels only. These actions aim to draw publicity and put pressure on the leaders of the G7 nations to respond to five demands:
Declare climate emergency and commit to net zero by 2025
Immediate ban on fossil fuel investment
At least double provision of climate finance to developing countries
Pay for their fair share of global loss and damage from climate change based on their destructive actions and historic responsibilities
Commit to a just transition that enshrines global solidarity and equity at its core.
Support from Scotland
Allan Gray, XR Forres: "The G7 meeting is a leverage point for meaningful change that addresses the climate and ecological crisis. For too long world leaders in positions of undeniable power and influence flirt with the solutions to the climate emergency with warm words, but we need action now and it's long overdue.
"The climate crisis is costing lives, the threat to life is greater than the current pandemic, and the consequences are irreversible.
"World leaders have an opportunity to face the fallout from the COVID-19 pandemic by protecting lives by transitioning away from the biggest polluters.
"Instead they can build a future, where green careers replace fossil jobs. Where your life is not threatened by pollution. Where your future is prosperous, not in crisis.
"Boris and the UK government must act now and treat the ecological emergency like the crisis it is. Anything short of that is a failure to the people. We will not stay silent, lives are at stake."
Donate to XR Scotland
We have spent money hiring minibuses, making banners and props, and Covid-19 protective equipment.
If you can afford to, please consider donating to help cover some of these costs.