Act Now or Swim Later: XR Forres send a message on Earth Day
April 24, 2021
Extinction Rebellion Forres (XR Forres) and concerned citizens  took a socially distanced wild swim, carrying placards bearing the messages 'Act Now or Swim Later' and 'Love Earth – Fight for 1.5°C to celebrate Earth Day.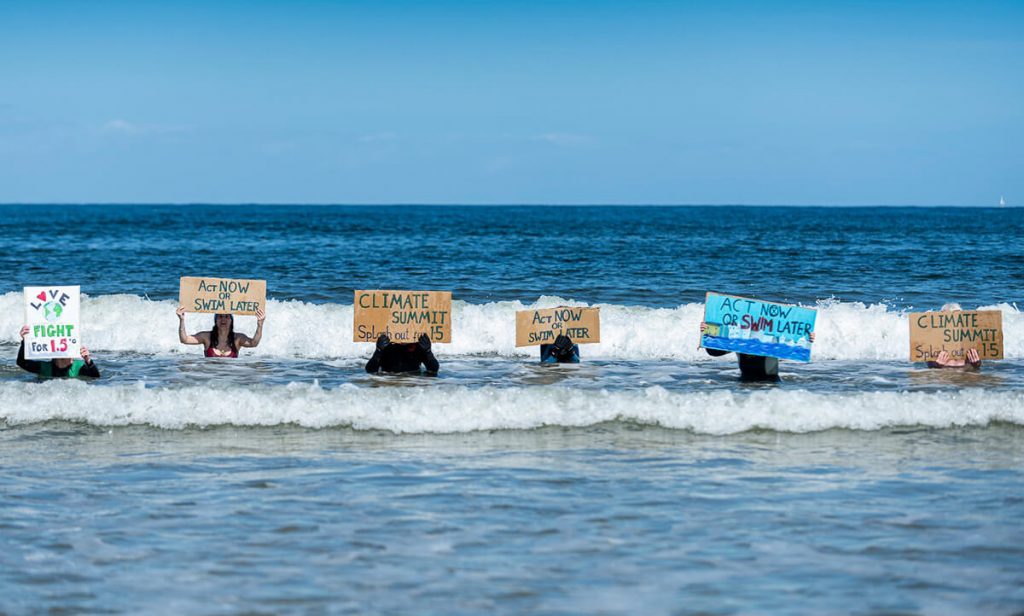 The action was a call on leaders taking part in Biden's Climate Summit to do more on the climate and ecological emergency in the run up to key talks being hosted by the UK this year (G7 meeting in Cornwall in June; COP26 in Glasgow in November).
The aim was to:
call on world leaders attending the online Climate Summit being hosted by President Joe Biden on 22-23 April to strengthen their national commitments and back them with concrete policy measures in order to bring down the world's current greenhouse gas (GHG) emissions to levels compatible with limiting global heating to an average of 1.5°C, as agreed in the Paris Agreement.
ask Prime Minister Boris Johnson to play his part in this by backing the Climate and Ecological Emergency Bill, to ensure in law that the UK takes full responsibility for its entire carbon footprint, acts to protect our vital ecosystems, and give citizens a say in the transition to a zero carbon society.
celebrate Earth Day and the healing power of nature and call on global leaders to do more to protect and restore the biodiversity of our planet and its oceans.
Background
US president Joe Biden has invited 40 world leaders, including Prime Minister Boris Johnson, to take part in a digital summit, starting on 22 April (Earth Day), in order to galvanise efforts by major economies to reduce GHG emissions during this critical decade, ahead of 2 key talks (G7 & COP26) being hosted by the UK this year. John Kerry, Biden's Special Presidential Envoy for Climate, has stated that the 20 top emitters (the world's richest countries) are collectively responsible for 81% of the world's CO2 emissions.[1]. It is incumbent upon them to take the lead in reducing their disproportionately high emissions.
Despite a lot of rhetoric about the urgent need to tackle the climate crisis, the Nationally Determined Contributions (NDC) so far announced ahead of November's COP26 meeting in Glasgow are nowhere near sufficient to limit global heating to an average rise of 1.5°C. A UN assessment shows that current NDCs would lead to a reduction in emissions of just 1% by 2030 [2]. And targets aside, in practice the world's governments are "doubling down" on fossil fuels, with CO2 emissions forecast to jump this year by the second biggest annual rise in history, as global economies pour trillions of stimulus cash into fossil fuels [3]. Nations are planning fossil fuel production increases of 2% a year and G20 countries are giving 50% more CV-19 recovery funding to fossil fuels than to clean energy [4].
In the UK, even taking into account recent climate initiatives, our projected carbon emissions are 2-3 times higher than required if we are to comply with our obligations to help limit global heating to 1.5°C [5]. Furthermore, parliament's Public Accounts Committee says ministers have "no plan" to meet their climate change targets enshrined in law 2 years ago; no coordinated strategy to reach net zero by 2050; and no means of ensuring that our current emissions are not simply transferred overseas – where so many of the carbon-intensive goods bought in our shops are made [6].
The Climate and Ecological Emergency Bill provides a route map to get out of the mess we are in and we urge Boris Johnson and his government to expedite its progress through Parliament. Our security and wellbeing are dependent on climate action being prioritised – the fact that the new policing bill was fasttracked to its second reading in 7 days (political action can be achieved quickly when it is deemed important enough), while we are told that the government still has 'no plan' to meet its own targets fills us with deep alarm.
Julia Tucknott of XR Forres says, "On Earth Day we are celebrating the natural world, upon which our wellbeing depends. We cannot continue to deify growth at all costs in a world with finite resources. We are at a crisis point. Never before has our climate changed so rapidly, and if we miss this chance to match our words with real action, the consequences will cause untold suffering to millions.
We are already starting to see some of those consequences starting to unfold. In 2021, we are facing multiple famines due to the combined impacts of conflict, climate change and inequality, coupled with the CV-19 crisis [7]. Further global warming and our continued destruction of nature, means we are increasing our risk of future pandemics [8], not to mention coastal flooding, more severe and frequent wildfires and extreme weather events, and the loss of the ecosystems that sustain life.
Governments have a duty to protect their people but they are failing us. This is a time to be bold in charting a path to a better future for all: to invest in new 'green' jobs, renewable energy, and clean public transport systems. It is time for our leaders to start walking their talk – fine words without rapid, ambitious action won't wash anymore. We are watching you!"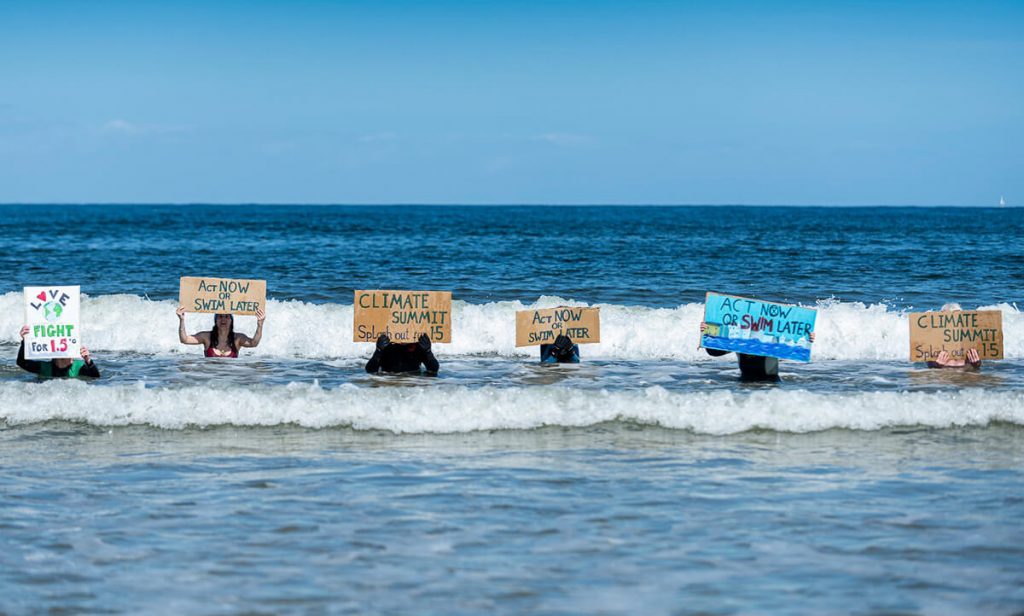 Sources
[1] https://www.bbc.co.uk/news/uk-politics-56321456
[2] https://www.theguardian.com/environment/2021/apr/19/joe-biden-to-reveal-us-emissions-pledge-in-keyclimate-
crisis-moment
[3] https://www.theguardian.com/environment/2021/apr/20/carbon-emissions-to-soar-in-2021-by-secondhighest-
rate-in-history
[4] https://www.theguardian.com/environment/2020/dec/02/world-is-doubling-down-on-fossil-fuels-despiteclimate-
crisis-un-report
[5] https://tandfonline.com/doi/pdf/10.1080/14693062.2020.1728209
[6] https://www.bbc.co.uk/news/uk-politics-56285239
[7] https://www.theguardian.com/global-development/2021/apr/20/millions-at-risk-of-famine-without-urgenthelp-
governments-warned
[8] https://www.theguardian.com/world/2020/apr/27/halt-destruction-nature-worse-pandemics-top-scientists