Election Rebellion: Extinction Rebellion Edinburgh visit party HQs
December 11, 2019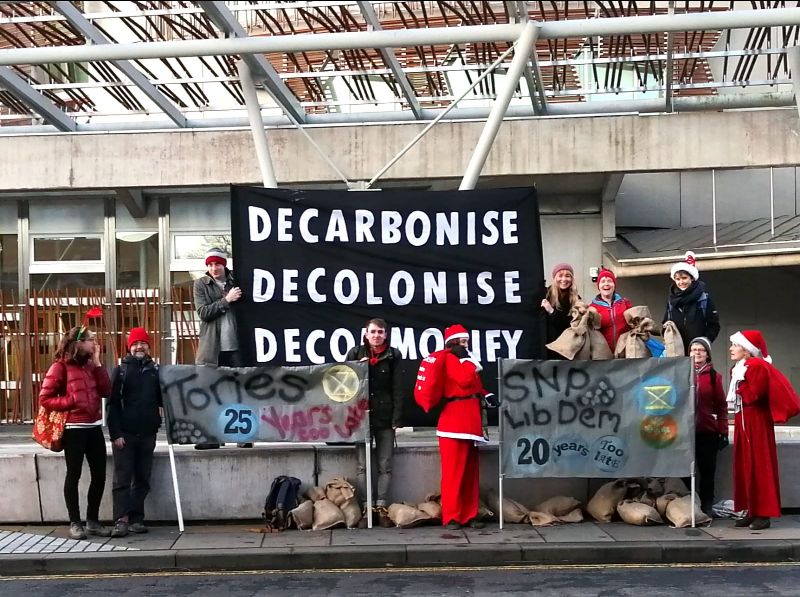 Activists, dressed as Santa, are delivering sacks of coal to party HQs in Edinburgh, one sack for each year that they miss the XR target of net zero carbon by 2025.
Starting at 8.30am on Wednesday morning, activists from XR Edinburgh gathered outside the Scottish Parliament, dressed as Santa Claus. They are now walking to party offices and delivering sacks of 'coal' – one for every year they miss the XR 2025 net zero carbon target. They are also delivering letters to each party unpicking some of their policies and demanding more and faster action.
This action is part of Extinction Rebellion's 'Election Rebellion: 12 Days of Crisis', which has seen a series of actions take place around the country including roadblocking to highlight the number of deaths caused by air pollution in the UK, bees glueing themselves to campaign buses and occupations of party HQs by breastfeeding, grieving mothers. 
Globally in the last year, XR and the school strikers have kickstarted a tidal wave of protest in response to government inaction on climate change. The climate emergency has gone to the top of certain parties' manifestos, governments have declared emergencies and targets have been set. But so far, emissions have continued to rise and targets have been set too late – meaningful action being kicked into the long grass for the next government (and generation) to deal with. The 'Election Rebellion' actions aim to put the pressure on all political parties to take this issue seriously and make sure the climate and ecological crisis is top of the governmental agenda.
Hannah Bischof, 23, from Edinburgh said, "The climate and ecological crisis goes beyond party politics – no matter where you vote on the left/right scale, the destruction and disasters on the horizon for the UK will affect everyone." 
The letter to the Conservatives included this; "You claim you will increase spending on nuclear power, an expensive use of resources, whilst not allowing onshore wind or Solar to bid in for power auction, even though they are proven to be cheaper and more sustainable options. You offer no date for phasing out internal combustion engine cars. It's not good enough!"
And to the SNP, "Your climate policies do not represent the current scale or gravitas of the crisis we face. You pledge £17million for loan funding to help people with the cost of switching to "ultra low emission" vehicles, is this enough? 

You say you have taken steps to rewilding Scotland yet around 57% of Scottish land is still owned by private estates who continue to invest in unsustainable non-native forestry plantations and destroy natural habitats and ecosystems for the pleasure of private shooting parties. 

You mention supporting just transitions within the oil and gas industries which is good but you offer no timescale for when these just transitions will take place or for ending fossil fuel exploration. 
It's not good enough! "
Ends
About Extinction Rebellion Scotland
Extinction Rebellion Scotland is a non-violent direct-action movement formed to take urgent action in the face of climate emergency and ecological catastrophe, as part of the global justice movement.
Our demands, issued as a Declaration of Rebellion to the Scottish Parliament and Scottish Government on 24 November 2018, are as follows:
That the Scottish Government tell the truth about the climate and wider ecological emergency, acknowledge and reverse any policies that help drive the climate crisis, and commit to enabling a rapid and just transition to a sustainable and fair society.
That the Scottish government enact legally binding policy measures to reduce carbon emissions to net zero by 2025, including by replacing a system based on accelerating consumption with one based on ensuring the well-being of all.
The creation of a Scottish Climate Citizens' Assembly to oversee the changes, as part of creating a democracy fit for purpose and a society that cares for all.
Read more about Extinction Rebellion: https://rebellion.earth