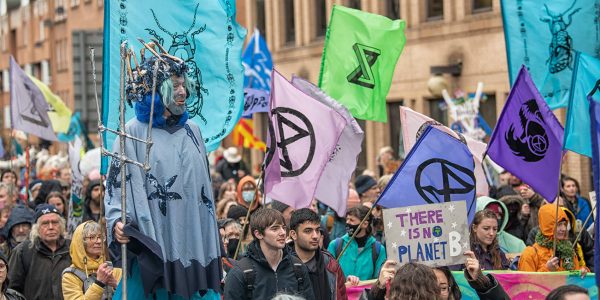 New to Extinction Rebellion Scotland?
Whoever you are, however much time you have – our communities and our beautiful planet needs you.
Find out how you can involved in XR Scotland
Find and join your local group.
21 April 2023 – The Big One: XR UK are working to bring 100,000 people to Parliament to demand change. Will you be there?
Sign-up for updates: Sign-up for XR UK updates (bottom of page) and XR Scotland updates as we plan for the next stage in fighting the climate emergency.
Get trained for action
This training is being provided by XR UK and is useful for learning new skills for taking part in a rebellion. Please note that Scottish law is different when it comes to knowing your rights and NVDA. Find out more about Scottish law on the SCALP website.
Join a session to learn about social media, Non-violent Direct Action (NVDA), deescalation, singing for rebellion, action wellbeing and more…
XRUK Website – as a List or Calendar View
Talks and training events

Join the UK Movement Broadcast for key updates on events and training.
Latest news from XR Scotland
OUR 3 DEMANDS
Issued by Extinction Rebellion Scotland as a Declaration of Rebellion to the Scottish Parliament and Scottish Government on 24th November 2018.
1. Tell the Truth
That the Scottish Government tell the truth about the climate and wider ecological emergency, acknowledge and reverse any policies that help drive the climate crisis, and commit to enabling a rapid and just transition to a sustainable and fair society.
2. Net Zero 2025
That the Scottish Government enact legally binding policy measures to reduce carbon emissions to net zero by 2025, including by replacing a system based on accelerating consumption with one based on ensuring the wellbeing of all.
3. Climate Citizens' Assembly
The creation of a Scottish Climate Citizens' Assembly to oversee the changes, as part of creating a democracy fit for purpose and a society that cares for all.
What's Extinction Rebellion Scotland about?
Watch "Heading for Extinction" to find out more about the climate crisis and what you can do about it: