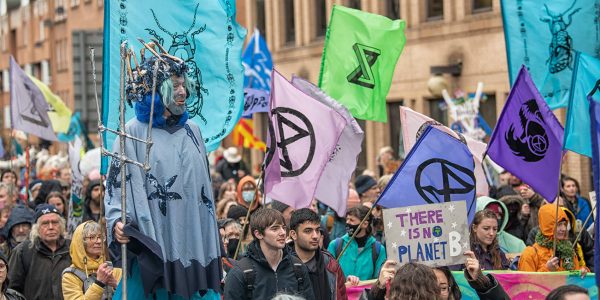 Welcome to Extinction Rebellion
The climate emergency is the biggest crisis facing humankind but if we all come together we can make a difference for our beautiful planet and our communities.
Learn more about what Extinction Rebellion is, what we do and how you can get involved.
The Big One
On 21 April 2023, thousands will gather peacefully around the House of Parliament to tell the Government that we can't afford this anymore. This is for everyone. Whether you're in your 20s or 70s, if you are coming with children or on your own, everyone is welcome and everyone is needed.
Scottish rebels: Are you going to the Big One? If you're travelling down from Scotland here's all the information you need.
New to Extinction Rebellion Scotland?
We need your help to make change.
Find out how you can involved in XR Scotland
Latest news from XR Scotland
Sign-up for updates
Sign-up for XR UK updates (bottom of page) and XR Scotland updates for our latest news, updates and information.
OUR 3 DEMANDS
Issued by Extinction Rebellion Scotland as a Declaration of Rebellion to the Scottish Parliament and Scottish Government on 24th November 2018.
1. Tell the Truth
That the Scottish Government tell the truth about the climate and wider ecological emergency, acknowledge and reverse any policies that help drive the climate crisis, and commit to enabling a rapid and just transition to a sustainable and fair society.
2. Net Zero 2025
That the Scottish Government enact legally binding policy measures to reduce carbon emissions to net zero by 2025, including by replacing a system based on accelerating consumption with one based on ensuring the wellbeing of all.
3. Climate Citizens' Assembly
The creation of a Scottish Climate Citizens' Assembly to oversee the changes, as part of creating a democracy fit for purpose and a society that cares for all.
Donate today for people and planet
We need your help so we can stand together and act now for our future. Please support us today.