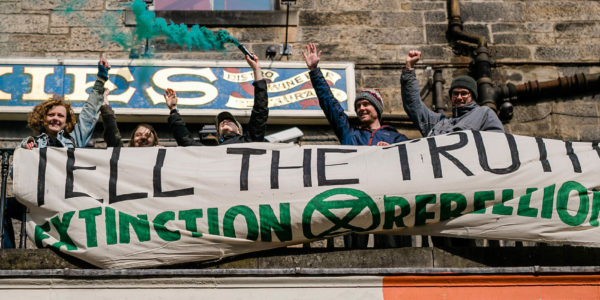 Scotland Rebellion 2020
We are at an intersection of global crises. Join our Scotland Rebellion 2020 and stand up for people and planet.
This page is now out of date but the information has been left for reference and interest.
Climate breakdown, Covid-19, racial injustice and poverty – all are symptoms of a toxic system that is driving us to an emergency.
Unfortunately, while we've been in lockdown dreaming of a green recovery and building back better, the ecocidal elements of our society have been just as busy as ever. Airlines, oil barons and pollution giants are doing everything they can to cling to business as usual with a 'dirty recovery'.
They are acting in their interests and not ours. Meanwhile, our leaders are failing to act now and act quickly and banks are still investing in fossil fuels.
Join our Rebellion
Our Scotland Rebellion 2020 will take place from 5 October to 26 October and is based on four campaigns.
There are lots of ways to be involved in XR without being arrested, our actions would not be possible without many supporting roles.
Join our rebellion and get involved.
Make the Connections
Decentralised but synchronised actions that target and expose the connections between three pillars that support business as usual: Government, the fossil fuel industry and big money investment.
Dates: 5 October to 26 October
Find out more about this campaign.
Make it Real
The XR Scotland Political Engagement Circle has been working on this project with the Scottish Government on the Scottish Climate Citizen's Assembly.
Dates: ongoing
Find out more about this campaign.
Stop Killing our Wildlife! Wildlife and Land Reform Rebellion
A proposed action of peaceful protest with a focus on the Scottish Government and a call to stop killing Scotland's wildlife.
Dates: 26 October to 31 October
Find out more about this campaign.
Digital Rebellion
We're building a friendly community of rebels ready to take digital micro-actions advocating for change.
Dates: ongoing
Join the Scotland Digital Rebellion.
Covid-19
At time of writing, it's impossible to predict what phase of Covid-19 we will be working with for the Scotland Rebellion 2020. We are currently in Phase 3 with different rules also in force in Glasgow. The relevant authorities, including the police, have been given the powers to enforce the regulations – including through fines and dispersing gatherings. Please plan your actions accordingly so they can adapt to changes in Covid-19 circumstances. Please also think about how your actions may affect perceptions of your campaign. Scottish Government: Coronavirus (COVID-19) Phase 3
Accessibility
When planning an action, please fill in the checklist and then share it with anyone interested in participating in the action. This will enable people to decide whether or not the action will be accessible enough for them personally to participate in.
Donate
If you can't join an action, please donate to support us.
Contact the Rebellion
Contact your local XR group, your affinity group or xrscotland@gmail.com.