G7: How to get involved
The G7 leaders of the world's richest 'democratic' nations are meeting in Cornwall on 11-13 June 2021, and we're going to call out their empty words with the theme "Drowning in Promises".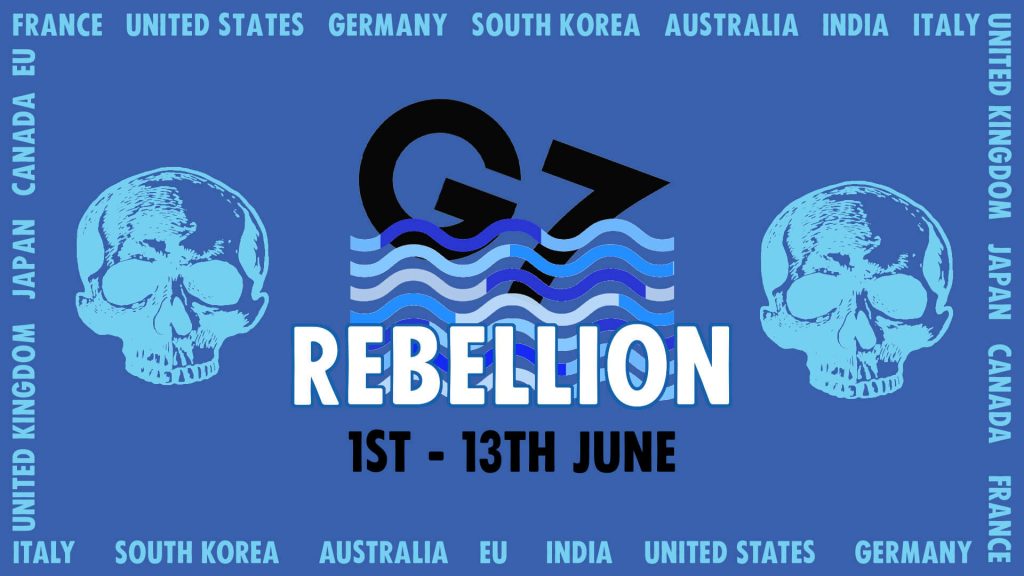 The G7 Summit will play a crucial role in later climate negotiations this year. We need to press the G7 nations, observers and guests for immediate change and keep that pressure on all the way to COP26.
We are calling on EVERYBODY who can, to rise up and take action: UK, worldwide and online!
How you can get involved
Rebels across the UK, and around the globe, are planning actions and reactions to the G7; to expose the truth behind the rhetoric, and puncture the UK government's claim to be world leaders on tackling climate change.
In Scotland
In Scotland – contact your local actions link or email g7-nomorefossilfools@protonmail.com if you wish to join local or national actions in Scotland
Around Scotland's coast: Make The Wave
Monday June 7th – Thursday June 10th, 4 days of nationwide outreach actions for local groups to get involved with, forming a WAVE around the coastline – and streams leading to the coast from inland groups!
Connect with your local community and Movement of Movements groups for imaginative actions conveying the reality of rising sea levels. MAKE THE WAVE will surge into an unstoppable force for change; demanding that our government and world leaders take decisive action on the Climate Emergency.
The date for actions around Scotland is Monday 7 June.
Make The Wave Action Pack | Join the Make The Wave Telegram channel | Website: makethewave.eco
Taking part? Please let us know: g7makethewaveteam@protonmail.com.
Share images on social media using the hashtag: #g7wave
G7 UK-wide Banner Drop
Take part in a UK-wide banner drop on Friday 4 June.
Action Brief: How to Banner Drop | Join the Banner Drop G7 Telegram Chat
Other group actions
Find out about G7 Earth March & Cycle and the Beacon action on the G7 Action Pack.
Going to Cornwall
Email g7-nomorefossilfools@protonmail.com if you wish to travel with fellow local rebels to Cornwall.
Online: Pass the Mic
'Pass The Mic' solidarity action with rebels from XR Global South groups is a chance for us to show we can rebel locally as part of a coherent global tapestry of actions.
The Global South Uprising will take place on June 9th – when those at the frontline of climate crimes, in Africa, Asia and Latin America, will draw attention to the hypocrisy of the countries and companies causing catastrophe in their lands.
These voices are easily drowned out by slicker, well-resourced media , which is why frontline activists are reaching out to all groups in the global north with internet, devices and social media reach to 'Pass the Mic'.
We call on hundreds of media-savvy rebels around the world to join in this simple, practical act of solidarity, amplifying the actions and messages from the global South throughout the global XR reach.
More information on this digital action coming soon.

Global Rebellion Telegram Broadcast
Global Rebellion Telegram Chat
Join Scotland's Digital Rebellion
Don't forget you can also join the Scottish Digital Rebellion and get involved with all kinds of digital actions, discussions and solidarity.
All the information you need to know
G7 Action Pack contains all you need to get involved.
For info on how to get here and take part visit: G7 Cornwall Information Pack
Covid precautions
Please only consider joining actions if you have been Covid 19 symptom free for 14 days. Please remember follow all Covid advice available at the time.
Stay informed
Keep in touch with our latest news and events. You can tell us whether you want to volunteer but don't worry – you don't need to sign up to any role unless you want to. You can also unsubscribe at any time
Sign up for our newsletters and other information by email. If you put your local area in when you sign up, you will get local information.