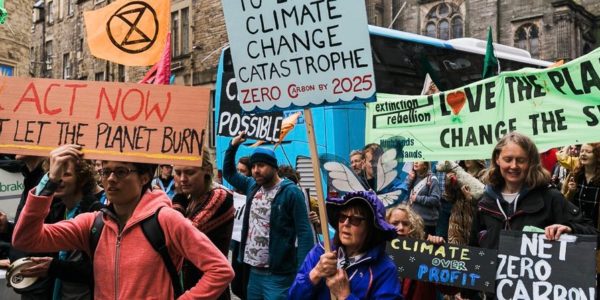 Gaelic
Tha Extinction Rebellion Alba mar phàirt de iomairt eadar-nàiseanta a bhios a' cleachdadh NVDA (non-violent direct action) gus iarraidh gun tèid rudeigin a' dhèanamh mu èiginn na gnàth-shìde agus an èiginn eag-eòlach.
OUR 3 DEMANDS
Issued by Extinction Rebellion Scotland as a Declaration of Rebellion to the Scottish Parliament and Scottish Government on 24th November 2018.
1. Tell the Truth
That the Scottish Government tell the truth about the climate and wider ecological emergency, acknowledge and reverse any policies that help drive the climate crisis, and commit to enabling a rapid and just transition to a sustainable and fair society.
2. Net Zero 2025
That the Scottish Government enact legally binding policy measures to reduce carbon emissions to net zero by 2025, including by replacing a system based on accelerating consumption with one based on ensuring the wellbeing of all.
3. Climate Citizens' Assembly
The creation of a Scottish Climate Citizens' Assembly to oversee the changes, as part of creating a democracy fit for purpose and a society that cares for all.
THIG DHAN AR-A-MACH
Tha sinn feumach oirbh gus cuideachadh le iomairt chumhachdach a thogail. Airson gach reubaltach a tha deònach a bhith an sàs ann an eas-ùmhlachd chatharra, tha XR Alba feumach air 50 neach a nì gach uile seòrsa obair eile. Obair a tha cruthachail is deatamach.
Dèan rudeigin agus gabh pàirt.
Na prionnsapalan agus beusalachdan againn
Tha an ar-a-mach againn stèidhichte air prionnsapalan agus beusalachdan nach eil ceangailte ri pàrtaidh poilitigeach sam bith.
You can also read our Rebel Agreement on how we behave and respect each other.
Cuir fios dhan bhuidhean XR ionadail
Tha buidhnean aig Extinction Rebellion Alba a tha a' coinneachadh air feadh na h-Alba.
Stay informed
Keep in touch with our latest news and events. You can tell us whether you want to volunteer but don't worry – you don't need to sign up to any role unless you want to. You can also unsubscribe at any time
Sign up for our newsletters and other information by email. If you put your local area in when you sign up, you will get local information.
Thoir tabhartas do XR Alba
Mura 's urrainn dhut a bhith an sàs ann an iomairt, thoir tabhartas gus taic a thoirt dha na reubaltaich, no ma tha thu airson cuideachadh le cùisean cùirte agus peanasan-airgid, thoir tabhartas don crowdfunder againn airson cosgaisean laghail.
Dè th' ann an Extinction Rebellion Alba?
Coimheadaibh air "Heading for Extinction" (in English) gus tuilleadh fiosrachaidh fhaighinn mu èiginn na gnàth-shìde agus dè as urrainn dhuibh a dhèanamh mu dheidhinn: